Most active members of the month of April 2021





Go to the detailed sheet >>
Detailed sheet Magma Technology

Description of the company
Hiboo is a SaaS application that helps manufacturers harness the power of data emitted by equipment.
JVD is the French leader in the design and manufacture of hygiene and hotel equipment.
Magma Technology revolutionizes the supply chain by offering a new generation of logistics visibility.
Wavely is an expert insound and vibration analysis for the environment and industry.

Description of an IoT project
Optimization of the operation of NGE's equipment fleet
HygiaConnect, the first smart cleaning solution.
Digitalization project of delivery tracking for L'Oréal.
Real time gas leak detection and localization system.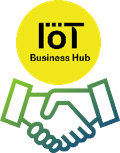 Reasons for joining the BH IoT
"Complement its "data" approach with a major consulting player capable of creating business value."
"Joining an open, dynamic, international, diversified ecosystem to promote the digitalization of the service delivery business."
"L's IoT Business Hub makes it easy to connect with large corporations and fosters collaboration between these major players and startups."
"Joining the IoT Business Hub seems interesting to us in order to share [la] solution [Wavely Predict] to the
Community and share collaborative opportunities."

What they bring to the BH IoT
"Our knowledge of companies providing cleaning services (ONET, ATALIAN, GSF, …) and its ecosystem (FEP, ARSAG, …)."
"The Magma approach allows us to address ever more significant ROIs while minimizing the time to deploy at the customer's site (1 month vs. 18 months for traditional solutions)."
"Theexperience of its team on its core business, sound and vibration analysis and on machine learning."